St James' Primary School
5 students from St James' Primary School, Kotara South travelled to Sydney to participate in the launch of the #FreeTheChildren campaign outside the Queen Victoria Building in Sydney. They share their insights and experience of supporting the Australian Coalition to End Immigration Detention of Children by freeing a doll, signing a petition and putting it all together on a video that can be watched below.
Brisbane, QLD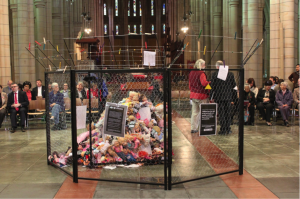 60 people attended the launch of the installation and Protecting the Lonely Children report, with media coverage and continuing interest in the Cathedral over the past week, culminating in over 90 signing up and writing to their member of parliament.
Adelaide, SA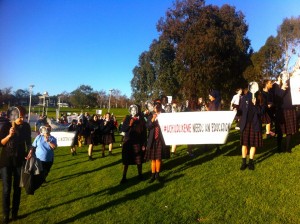 Students at Our Lady of the Sacred Heart College organised a silent vigil calling for children in immigration detention to have access to education. They called it, 'A Child Like Me'.
Perth, WA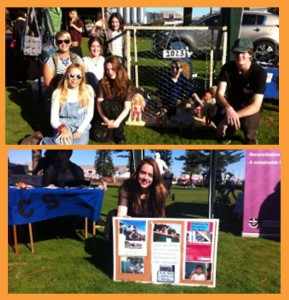 Perth Young Christian Students (YCS) made their own installation at the Refugee Welcome Fiesta on Sunday the 15th June. They managed to get 159 letters to local MPS in around 4 hours.
Townsville, QLD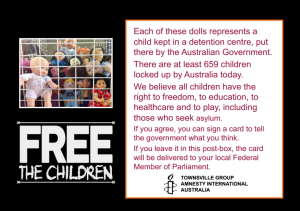 An Amnesty International group made their own versions of our materials to hand out at their DIY cage installation. Their fantastic DIY kit is available here. For any more information about this guide, contact jeanie.adams@bigpond.com